Accessories




Headshell TDHS-01Ti


One-piece universal titanium head shell




Super rigidity, pure titanium with special hardening treatment, and one-piece machined

This new universal titanium headshell TDHS-01Ti has been developed based on our accumulated knowledge on advanced technology and engineering.
In order to maximize the performance of a cartridge, a headshell must have a high rigidity while keeping the mass relatively low. With a high mass, it would cause a low frequency resonance or other unstable problems.
Ideally, a headshell must achieve both high rigidity and a low mass. This is a very challenging subject because high rigid materials are often difficult to machine and some headshells of such materials have a very thick wall and thus high mass, which is undesirable for a headshell.
We at TechDAS have pride in our deep knowledge and experience on advanced metal processing technologies, and have successfully implemented a high strength frame construction and a thin wall thickness in this headshell. Furthermore we integrated the joint section for a tonearm which is now all encompassing, a feat which requires the first rate processing technologies.
The sheer result is an outstanding headshell with a perfect balance of rigidity and mass. The surface of titanium is mirror polished through advanced skills of metal polishing.
In addition, a special hardening treatment is applied to the surface to add to even more rigidity even more and scratch resistance in normal use.
We have designed and precision machined all the components of the integrated connector block with the tonearm instead of using a general purpose connecter. It also features the CNC machined insulation part of Teflon that has a low dielectric constant, and the contacts have been processed with rhodium that is better corrosion resistant for a loss-less transmission of electric signal. This headshell allows your cartridge to fully perform to its capabilities. It is time to enjoy the delicacy and energy of music you have not experienced before.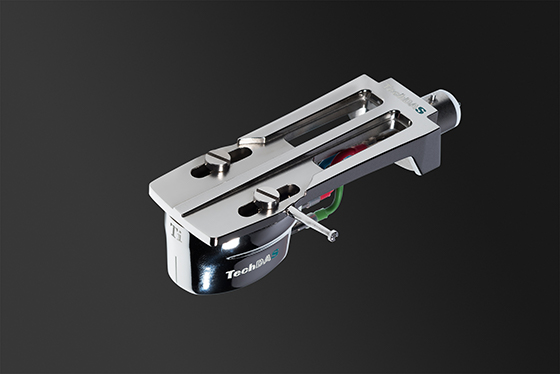 With a cartridge mounted (the cartridge is not included in this product)



Cross section of this product - integrated joint


Cross section of a conventional example head shell - separate components

Body: Pure titanium with surface hardening treatment
Dimensions: 65mm (L) x 14mm (H) x 29mm(W including the finger lift)
Mass: 16g
Accessories: 1 set of titanium screws for mounting
1 ceramic flathead screwdriver